OUR PRICING POLICY
Our prices include:
Freight
PDI
Admin Fee
Battery
Battery Box
Full Propane
Starter Kit
Free RV Care Membership
Complete Orientation
One of our technicians will detail all functions and maintence procedures (1.5 - 2 hours average) on your new unit upon purchase.
RV Care Network
You will be a member of the RV Care Network when you purchase an RV from Ferguson RV World.
And here's why we're proud to be an RV Care Dealer:
You're in safe hands when you travel - We're part of a Canada-wide community of over 60 top independent dealers. When you buy one of our RVs, if you have a problem while traveling just stop in at the nearest RV Care dealer and our 6 Step Service Plan will have you back on the road before you know it.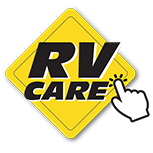 Free RV Care Membership
with your new unit